6819 Scott Hamilton

Little Rock, AR 72209

Office: 501-837-9351

Cell:    501-837-9351

Fax:    501-261-7868

Email: 

"I am so pleased with the work and completion on schedule, it was just perfect!"

Anna

North Little Rock, AR

"I had to replace my old roof before selling the house, and I had to do it in a hurry.  I was so impressed with the professionalism of your workers and the overall craftsmanship of the job!  The new roof greatly increased the value of my house and it was all because of you.  Thank you for your hard work and reasonable prices!"

James

North Little Rock, AR

"We were very satisfied with the new master suite you built for us.  Getting the quote was quick and the price was pretty painless I must say.  Your staff was great, they started on time each day and worked efficiently. We are so happy with the way it turned out, and you can bet we're recommending you to our neighbors!"

Kathy

Little Rock, AR

"Having an office that operates solely on phones and computers, one is hesitant to take on construction projects in the workplace. We hired Rhinehart Company to remodel our office space. We were totally satisfied with the quality of work and the minimal interruption to our regular workflow. This allowed us to keep having business as usual while the project was being completed. They even vacuumed and cleaned each night before we started the next day. I would highly recommend them for any or your residential or commercial projects".

John Sawyer - Aspen Transportation

Jonesboro, AR

*More references available upon request

1. Customers come first.

2. We do what we say we're going to do, within an agreed timeframe.

3. Your satisfaction is  guaranteed.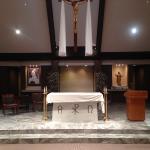 St Theresa's Church

New Tiled Altar

6219 Baseline

Little Rock, AR